5.1 to 5.5 China import and export commodities trade will look at cotton digital printing at 14.3G19L.
Time: May 1, 2018 solstice 5.
Venue: China import and export fair exhibition hall (no.380, jiangzhong road, haizhu district, guangzhou city)
Booth no. : 14.3G19L.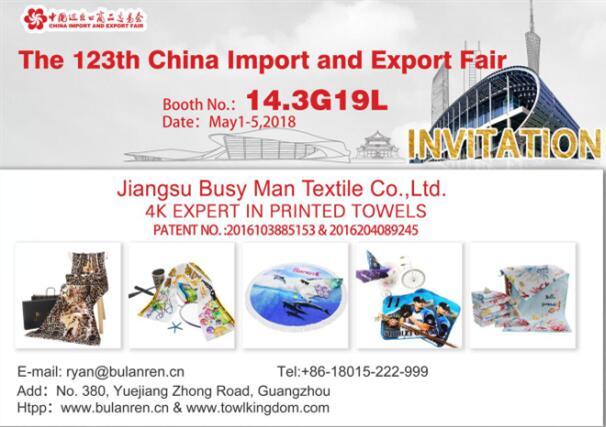 The China import and export trade, also known as Canton fair, founded in the spring of 1957, during the spring and autumn every year held in guangzhou, has 61 years of history, is currently the longest history, highest level, China's largest and most complete variety of commodity, number and distribution of nationality to purchaser and the clinch a deal the best effect, the credibility of the best comprehensive international trade event.
The fair attracted more than 24,000 Chinese companies and more than 500 overseas companies.
Give priority to in order to import and export trade, the trade way agile diversity, in addition to the traditional sampling and clinch a deal, still holding online fair, carry out various kinds of economic and technological cooperation and exchanges, and commodity inspection, insurance, transportation, advertising, consulting and other business activities.Merchants from all over the world gathered in guangzhou to exchange business and promote friendship.
We, as regular visitors each year, will appear in the third stage this year.
At that time, we will show our company research and development and the first double-sided printed towel. We sincerely invite you to visit our booth. Our products will never let you down.
The above is 5.1 to 5.5 China import and export commodities trade will look at cotton digital printing at 14.3G19L..editor introduced to everyone .If you want to know more about digital printing towel related content , please pay attention to Jiangsu Busyman Textile Co., Ltd.http://www.towelkingdom.com/